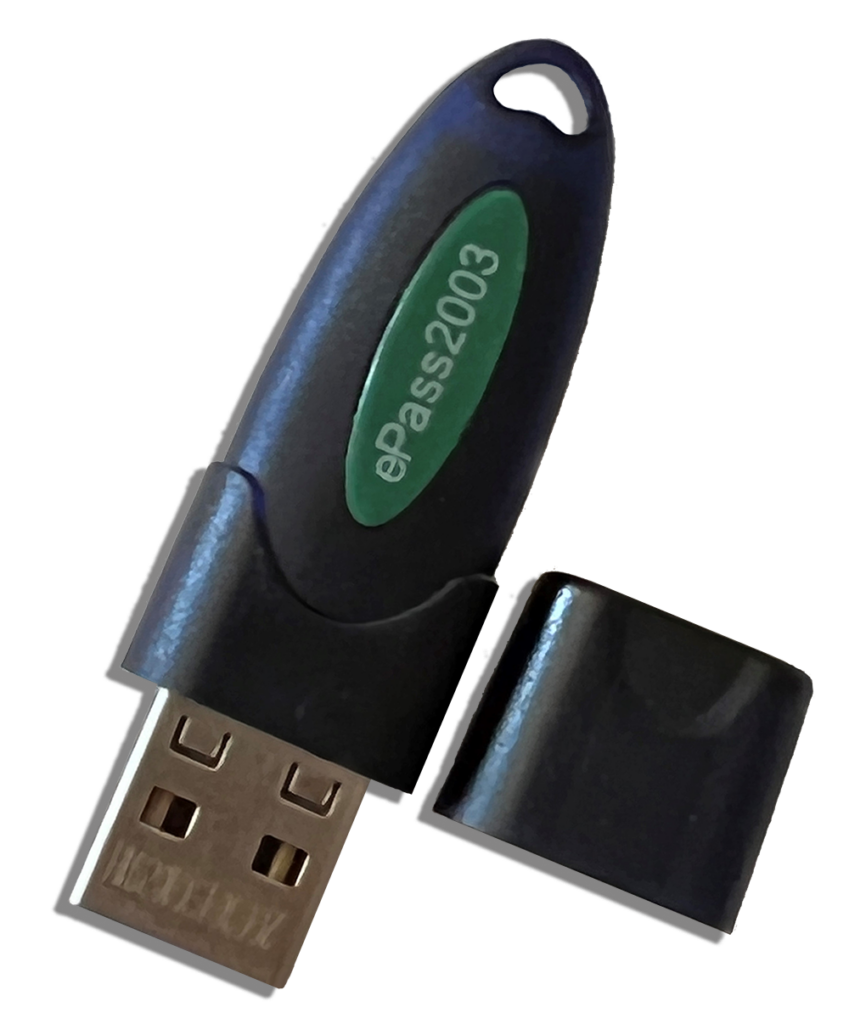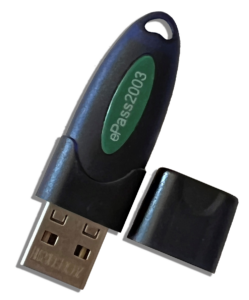 PKI USB Token
Authentication
Encryption
Digital Signature
The ePass2003 is a USB token with an integrated smart card for secure two-factor authentication (ownership and knowledge).
It allows cost-effective and easy control of intranet, extranet or Internet access to various applications and network services, such as Internet access. VPN (Virtual Private Network) and use in PKI environments or e.g. for logon solutions or data encryption, secure email traffic or digital signature.
The USB token is designed to store digital certificates, public keys, private keys or other similar data. Access to the private area is secured by a PIN authentication, in addition, the data stored in the private sector is encrypted.
Typical uses of the token are the 2-factor windows logon, signing, the RSA 2048 bits
Key generation.
Characteristics:
On-board generator for generating the RSA 2048 bit key pair
Support for RSA, DES and 3DES algorithms
Standard support Microsoft CAPI, PKCS # 11, MiniDriver, PC / SC
Windows Vista, 7, 8, 10, Server2003,2008,2012, 32/64 Bit
Plug & Play connection to the PKI applications
Digital signature signed in the hardware
Support for multiple PKI and smartcard applications
Support for multiple key storage
CE and FCC compliance, FIPS 140-2 level 3
Standard USB interface
Browser-based access to the ePass2003 token via ActiveX Control
and Java Applets
Crypto Algorithms: RSA 512/1024/2048 bit, AES 128/192/256 bit ..
Applications:
Security through Windows Smartcard – Logon
Standard eMail signature and encryption with Microsoft Outlook,
Internet Explorer, GMail, Thunderbird, Firefox, etc.
Secure SSL web access via Microsoft Internet Explorer, Firefox, Chrome ..
PKI compatibility with Windows, Microsoft Internet Explorer, Firefox, Chrome ..
Secure web logon
Secure email communication
Secure Authentication on the Remote Access Server (RAS)
Secure VPN authentication
Secure access to extranet and internet
Increased security on the PC
Business Applications:
Online Banking
B2B, B2C transactions
Stock brokerage
Healthcare
Application Service Providers (ASP)
Online subscriptions to magazines and newspapers
Fare Collection: Tele-ticketing, Toll Collection and Urban Parking
On-line Government: Driver's License, Vehicle Registration, Identification,
Electronic Visa, Military Identification and others.